UPDATE: October 1st 2022 a dither option was added
Update: 8/14/2022 gimp V4 will be released soon, I have made an auto installer for ease of installation.
Update: 9/14/2022 Da Big Gimping Plug-in V4 will be released TODAY! There is also an auto installer included for windows.
Da Big Gimping V4 Plug-in is a GAME CHANGER
Today is the big day! V4 will be released soon after I tell you a little about this amazing automated photo processor.
Let's start out with HOW TO INSTALL DA BIG GIMPING PLUGIN V4 MANUALLY & AUTOMATICALLY using the auto installer on windows.
Using the auto installer it's Important you delete previous zip files and the folders extracted from previous zip files that the scripts come in. Also download to your DOWNLOADS folder and also extract the zip to the downloads folder. Now close gimp and run the installer file and then launch gimp and enjoy!
"VIDEO COMING SOON HERE"
See! That was easy! Now lets checkout the user Interface.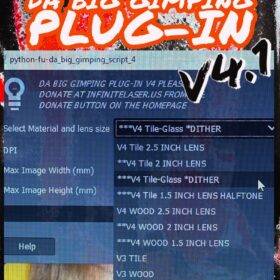 Da Big Gimping Plugin V4 User Interface Explained.
Everything will be done right here within the plug-in unless you are removing the background of a photo by filling the background 100% white.
select & open a photo of your choice.
Select the process determined by the lens you're using (I prefer the 1.5″ lens and processes for the most realistic photos)
Set the DPI to 400DPI as the MINIMUM but do experiment going higher.
Set the size you would like your image to be in "mm's"
Press OK and wait for the automated processing to finish.
Save the image by using the top menu "file">"export as" I prefer exporting as .Tiff with zero compression or .Jpg but if using .Jpg pay attention on the next screen to use the slider to bring it up to 100 quality and then press save default and it'll remember that part from now on.
Import the newly processed photo into your laser software and do not scale it to a different size. Now if you're using lightburn you will activate "Pass Thru Mode" or in Rdworks check the "Output Direct Box"
Send the processed photo to your laser and work on finding the best settings and your photos will shine!
The Results Are In!
Da Big Gimping Plugin v3 Photo Process Is Here – Gimp – Da big gimpin
I've been working on developing an awesome automated photo process that works with gimp and its finally ready to go and I call it da big gimping plugin
I have done tests on painted glass, painted acrylic, painted tile and wood while calibrating this laser photo engraving process, I will include a small gallery below for you to see how well this photo process for GIMP works for laser engraving photos. Da big gimpin plugin
Da big gimpin plugin – Da big gimpin plug-in
Da big gimping plug-in is now used vastly throughout the laser engraving community.
Da big gimping plugin
gimp review
how to use gimp
gimp free download
is gimp safe
laser engravers rated
laser cutter engraver
home laser engraver
buy laser engraving machine
buy engraving machine
ebay laser engraver
trotec laser amazon